Despite a probable deficit in the General Fund, the Utah State Tax Commission's latest report on revenue collections for twelve months of fiscal year 2019 suggests that Utah may have a combined General and Education fund revenue surplus of nearly $100 million at year-end. While collections to the sales-tax backed General Fund lag estimates by more than $40 million, strong income tax collections have boosted the Education Fund to nearly $140 million above projections. Revenue to the General and Education Funds combined totaled $7.5 billion through twelve months, and exceeded the consensus revenue target of 5.7% with a year-over-year (YoY) growth rate of 7.2%.
General Fund collections reached a YoY growth rate of 3.6%, pacing behind the consensus target of 5.3%. Preliminary General Fund collections totaled $2.6 billion in FY 2019. The relatively low growth rate in General Fund collections is strongly influenced by the sales tax growth rate of 4.3%, which fell below the consensus target rate of 5.5%. Preliminary measures estimate the General Fund will end the fiscal year in a $43 million revenue deficit.
The 2019 fiscal year featured strong collections in the Education Fund with a projected surplus of $140 million. Behind healthy performances in individual and corporate income taxes, the State's Education Fund reached a total of $4.9 billion in FY 2019, representing a YoY increase of 9.1%.
These figures will all change as state accountants close-out the books for fiscal year 2019. Final collection amounts and resulting revenue surplus/deficit figures will be released in September.
A snapshot of current collections is shown in the figure below: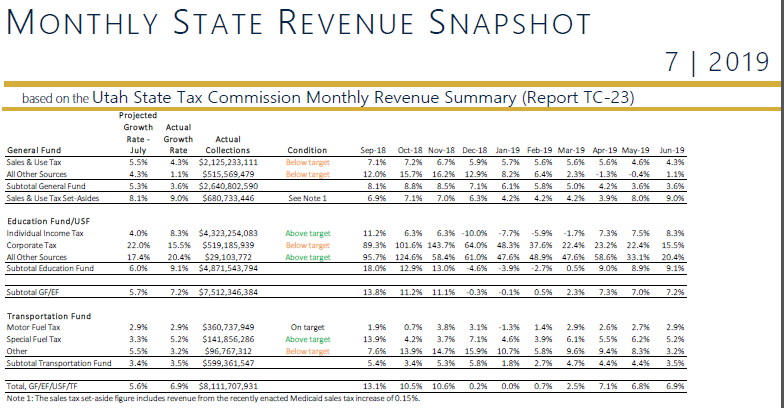 More details of the revenue picture through fiscal year 2019 is available here