On December 7th, staff from the Office of the Legislative Fiscal Analyst (LFA) and Governor's Office of Planning and Budget (GOPB) released a plan for how the legislative and executive branches will work together to enhance performance measurement and efficiency of government processes in the State. Staff developed the plan as directed by H.B. 326, "Performance Reporting and Efficiency Requirements" (2021 General Session) and presented it to both the Legislative Management Committee and Governor as part of a required annual update.
In partnership with state agencies, LFA and GOPB have implemented the performance measurement requirements of the legislation and published currently available data on the performance tabs of LFA's Compendium of Budget Information (COBI) website. By the start of the 2022 General Session, performance data will also be available on the new state dashboard performance.utah.gov. LFA and GOPB will begin efficiency evaluations in 2022, and will provide a preliminary report to the Legislative Management Committee and Governor by May 1, 2022.
The plan envisions different roles and responsibilities for both the executive branch and the Legislature, including the newly created Efficiency and Process Improvement Committee (EPIC).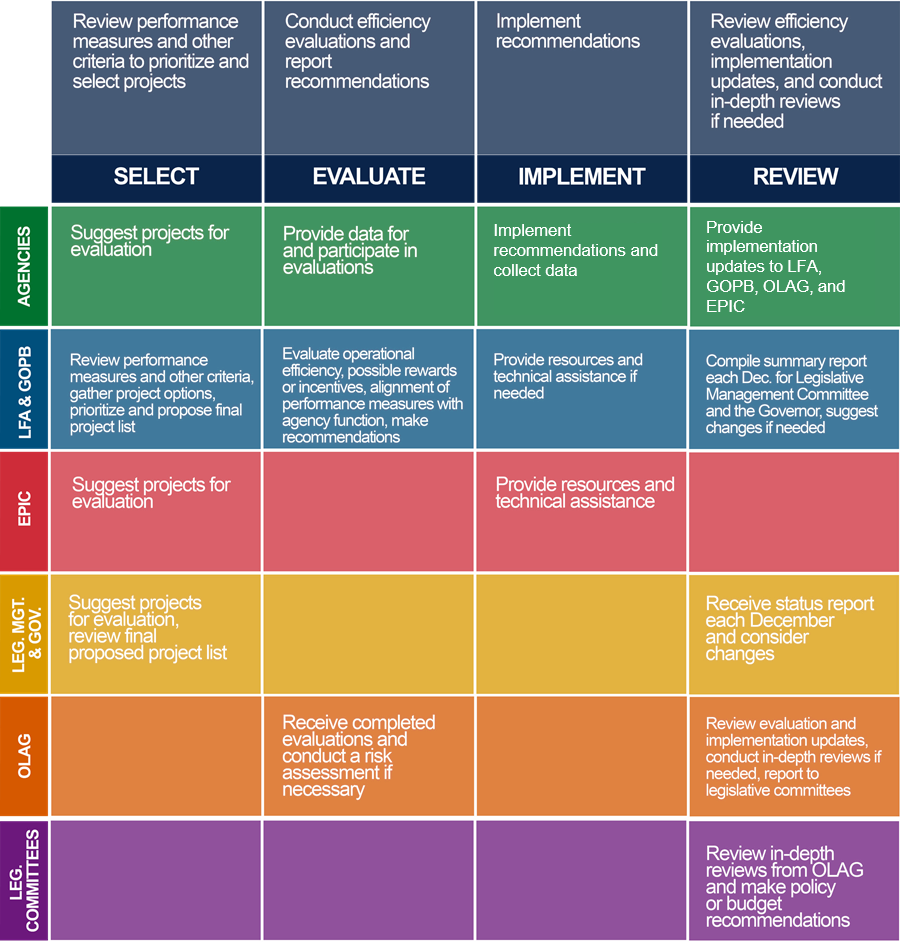 As articulated in the report, LFA and GOPB developed a shared vision for new performance and efficiency initiatives: "Our vision for Utah government builds on the State's existing work ethic and fiscal judiciousness to create a culture of innovation, where bold management efforts are rewarded and not punished. We will support our managers with training and capacity to be agents of efficiency with excellent soft skills and we will provide professional learning that makes long-term employment with the State an attractive career track for talented individuals. We will measure fewer but more meaningful outcomes to assess and re-evaluate taxpayer investments. We will streamline outdated bureaucracy to focus efforts on those outcomes. To accomplish all this, we will coordinate across the legislative and executive branches to support agencies and focus their efforts on providing exemplary service to the people of the State of Utah." Read more about the plan, here.