Earlier this month, the Utah Department of Health (UDOH) and Department of Human Services (DHS) officially became the Utah Department of Health and Human Services. During the 2021 General Session, the Legislature passed H.B. 365, State Agency Realignment, which directed the consolidation of the state's two primary social service agencies.
The Legislature proposed this merger to align funding and services within a single organization, as Human Services reports that nearly 60 percent of their clients are also served by programs or funding within Health. Interacting with multiple case managers and departments makes customer service challenging and creates redundancy. Some highlights of the organizational changes for the new Department include:
—Joining of behavioral and physical health in the Division of Integrated Healthcare;
—Streamlining of licensing and background screening services;
—Combining of all federal Medicaid long-term service and support programs within the Healthcare Administration Section, including disability services, aging services, and public guardians;
—High-quality customer service established and measured through a "no wrong door" approach in the new Customer Experience Division (found under Operations in the diagram above);
—Collocation of Family Health and other community programs with Child & Family Services; and
—A focus on leveraging data, research, and evaluation across the department to evaluate outcomes for individuals through the new Division of Data, Systems & Evaluation and the Center for Strategic Performance Management.
The only pieces of the two departments that were not combined are related to Medicaid eligibility. As Workforce Services handles eligibility for economic support, the agency consolidation bill moved Medicaid eligibility policy, Medicaid Eligibility and Quality Control (MEQC), and eligibility adjudications from the Department of Health to Workforce Services to connect families to a single entity for all state economic support services.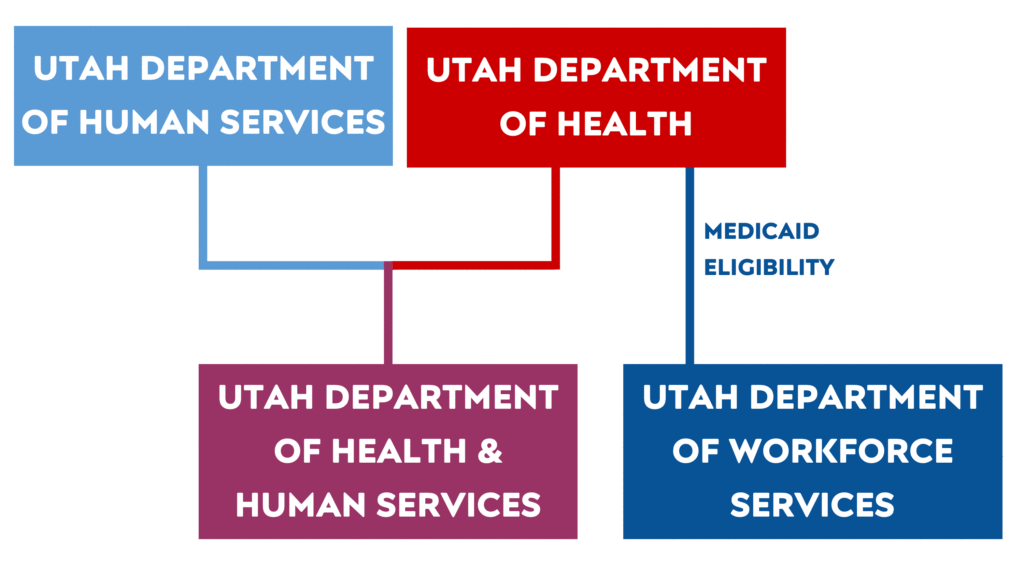 A visual of the merger between Human Services and Health. Medicaid Eligibility will be housed in Workforce Services.
Legislators appropriated $7.3 billion for FY 2023 to the combined entity – making it the single largest agency in the state. Of their total budget, $1.322 billion is from General and Education Funds. The merger brings together nearly 6,000 employees (over 1,600 from the Department of Health and almost 4,000 from the Department of Human Services) across 414 unique job classifications, residing in 164 locations.
Additional information on the merger can be found in the Department's transition plan, while the new department's website can be accessed at dhhs.utah.gov.