During the 2021 General Session, the Legislature passed H.B. 346, "Natural Resources Entities Amendments." Among other things, the legislation split the Division of Parks and Recreation into two separate line items: the Division of State Parks and the Division of Recreation.
Between the 2021 and 2022 General Sessions, the Legislature invested over $185 million one-time from General Fund surpluses to expand outdoor recreation opportunities for Utah's citizens and visitors. This is the largest amount of state funds ever appropriated for State Parks and Outdoor Recreation. (By comparison, combined base budget for the two divisions from the General Fund is less than $5 million.)
The additional funding is being used to create new facilities, including building two new state parks (Utahraptor and Lost Creek), revamping the Antelope Island Visitor Center, and adding a new marina at Bear Lake. The Divisions are also using funds to improve existing infrastructure, such as creating or expanding campgrounds and trails, increasing parking capacity, enhancing day-use pavilions, and more. The following chart shows how the funding is being used, summarized into major categories.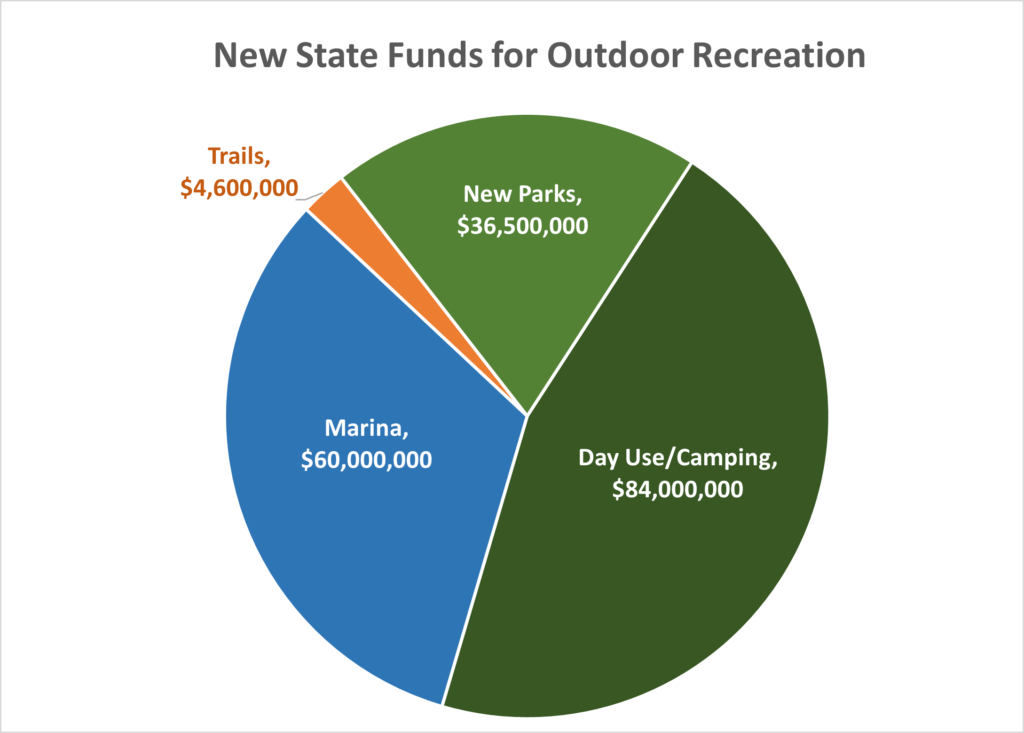 The following table includes an alphabetical list of the projects underway by the Divisions, along with a budget estimate for each project:
| | |
| --- | --- |
| Project Title | Cost ($) |
| Antelope Island Visitor Center Expansion | 12,000,000 |
| Antelope White Rock Bay Campground | 8,000,000 |
| Bear Lake Campground – Beach/Day Use Improvements (Rainbow Cove) | 5,000,000 |
| Bear Lake Marina | 60,000,000 |
| Bike Park Phase I | 450,000 |
| Bountiful Trails Master Plan | 500,000 |
| Cache Valley Nature Park and Accessible Recreation | 300,000 |
| Cedar Mountain Winter Recreation Project | 200,000 |
| Deer Creek Campground | 4,000,000 |
| Escalante Campground – Day Use Amenities | 3,000,000 |
| Goblin Valley Campground – Day Use Improvements and Expansion | 1,000,000 |
| Green River Campground and Lodging Expansion | 2,000,000 |
| Gunlock Campground – Day Use Area (Below Dam) | 4,500,000 |
| Helper River Restoration Phase VI | 500,000 |
| Jordan River Nature Center Phase II (Salt Lake County) | 250,000 |
| Jordanelle – Beach Expansion, Adding Parking, and Trail Access | 3,000,000 |
| Jordanelle – Campground and Day Use Area (Rock Cliff) | 12,000,000 |
| Kanab City Connector Trail – Trailhead | 50,000 |
| Lost Creek State Park – Campground, Day Use Area | 8,000,000 |
| Mt. Pleasant to Spring City Multi-use Trail – Phase II | 500,000 |
| Outdoor Access and Vertical Trails | 800,000 |
| Pine Valley Ranger District Trail Network – Spring Hollow Phase II | 450,000 |
| Bridal Veil Falls Surrounding Trail Development (Planning) | 400,000 |
| Provo River Parkway | 500,000 |
| Quail Creek Campground | 3,000,000 |
| Red Fleet – Campground and Day Use Area | 7,500,000 |
| Ron Wood Park, Bike and Skate Park Facility | 500,000 |
| Sand Hollow Campground – Add'l Day Use Area | 6,000,000 |
| Utah Lake State Park – Day Use Area | 3,000,000 |
| Utahraptor State Park – Design Engineering, Well Drilling, and Land Purchase | 28,500,000 |
| Willard Campground – Beach Area and Parking | 8,000,000 |
| Working with Utah County, Monument Sign Design | 1,200,000 |
| Total | 185,100,000 |