The Tax Commission's TC-23 report, which captures a snapshot of revenue collections through the first 9 months of fiscal year 2019, shows that Income Tax Withholding is still below Target range at -1.7%.
Throughout the year, this funding has been volatile as year-over year (YOY) revenue has gone from a growth rate of 11.2% in November 2018, followed by a negative growth rate in December 2018 (-10%). April's report, which will be published during the third week of May, should provide a reasonable projection for Income Tax revenue by the end of the year.
In addition to Income Tax revenue, sources within the General Fund are on target. There has been little fluctuation in the General Fund rates throughout the year as revenue collections have remained consistent.
Overall, YOY growth in the General and Education Fund revenue collections is at 2.3%. This is an increase in funding compared to last month's report (0.5%).
A snapshot of the collections is shown in the figure below: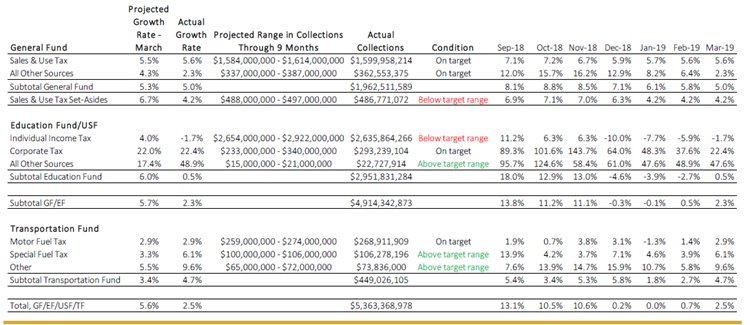 More details of the revenue picture through 9 months is available here.