The Tax Commission released their monthly revenue report (TC-23) earlier today. Through the first 8 months of FY 2019, according to the report, the revenue sources within the General Fund are on Target.
Income Tax Withholding is still below Target range at -5.9%. However, the rate is an indication of increased funding compared to December 2018 (-10.0%) and January 2019 (-7.7%). As Income Tax Withholding continues to reach the Target range, overall Education fund collections have inched closer to the target range as well, going from -3.9% in January 2019 to -2.7% in February 2019.
Year-over-Year (YOY) growth in the General and Education Fund revenue collections is at 0.5%. This is the first positive YOY growth rate in the General and Education Fund revenue since November 2018.
A snapshot of the collections is shown in the figure below: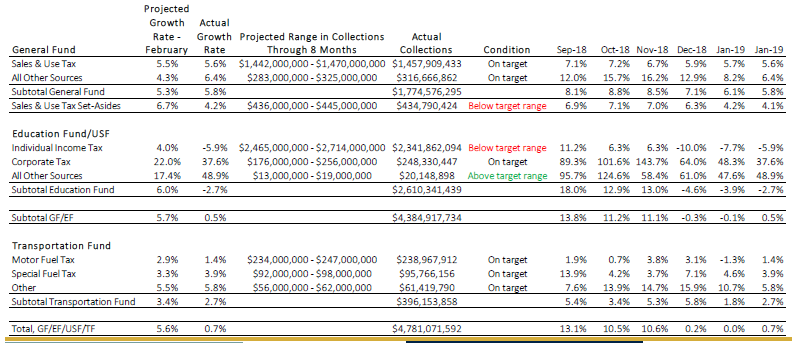 More details of the revenue picture through 8 months is available here.