On Friday, November 17th, 2023, the Tax Commission released their Revenue Summary report, detailing collections through four months of the fiscal year. Concurrently, the Legislative Fiscal Analyst and the Governor's Office of Planning and Budget jointly published their Revenue Snapshot for November, which compares updated revenue figures to consensus revenue estimates from February of this year. At the Executive Appropriations Committee (EAC) Meeting on December 5th, new revenue estimates will be adopted based on the latest economic data, to better inform lawmakers as they enter the legislative session.
Through November 7th, revenues to all sources are just above the forecast, holding very close with the exceptional collections from FY 2023 (red line in the chart below). While October saw a slight uptick in both the General and Income Tax Fund performance, economists anticipate lower quarterly and final payments (dashed green line), due to reduced wage growth and tax cuts passed during the 2023 General Session (H.B. 54). This, along with any underperformance in sales tax, may have the effect of eroding the benefits from investment income discussed last month.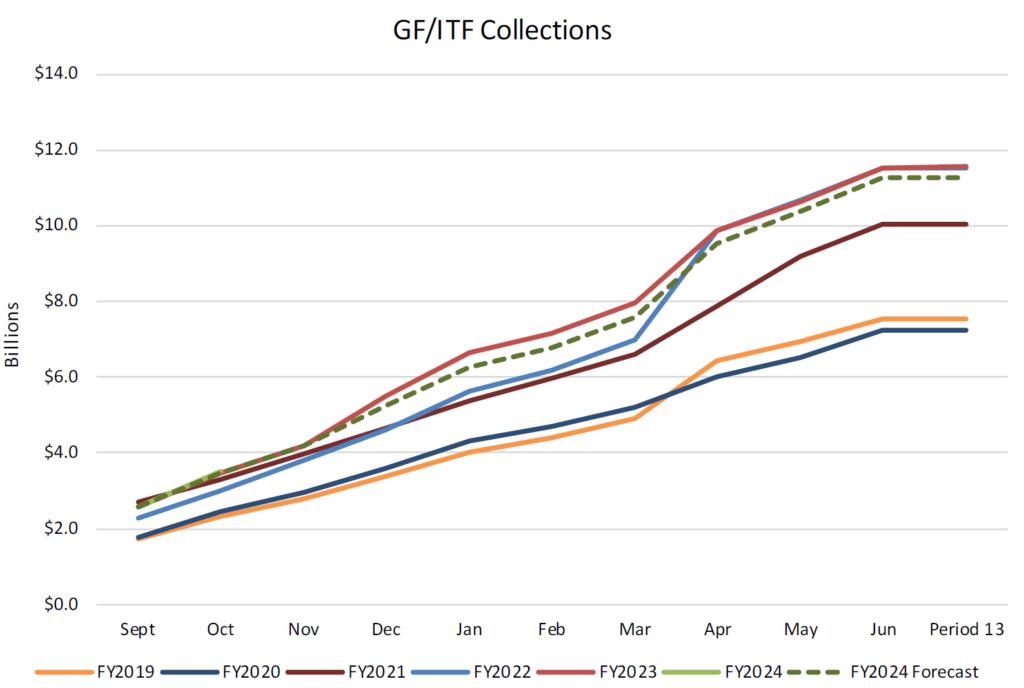 During their November 14th meeting, EAC received FY 2023's Financial Highlights from the Division of Finance. The report summarizes collections and expenditures for major revenue sources and programs. In FY 2023, the General Fund ended the year with a $69.3 million surplus, while the Income Tax Fund closed with a ($119,187,000) deficit. The combined ($49.9 million) shortfall will be covered by a appropriation made to the State Building infrastructure Fund; a budget decision which was intentionally dependent on final collections, knowing that this one-time revenue was considered high risk (or considerably above trend). As summarized in our post from July, Highway Debt and State Buildings are two budget contingencies that will afford policy makers some flexibility in a year with limited new revenues.
---
The reports referenced in this post are available at the links below:
November Revenue Snapshot (FY 24)
Tax Commission Revenue Summary (Period 4, FY 2024)
Revenue Publications Archive